Description: This dataset contains all principal German parties' income and expenditure figures from 2009 to 2017 at the federal and state level.
Link to the dataset: https://doi.org/10.7910/DVN/FSCDPI
Citation: Jacob, Marc, 2021, "German Party Finance Dataset (2009-2017)", https://doi.org/10.7910/DVN/FSCDPI.
The original data can be found at https://www.bundestag.de/parlament/praesidium/parteienfinanzierung/rechenschaftsberichte/rechenschaftsberichte-202446.
Thanks to Jan Pollex for helping with cleaning the data, and to Christoph Nguyen and Sabine Kropp for helpful comments on this project. Please address inquiries to m.s.jacob@outlook.com.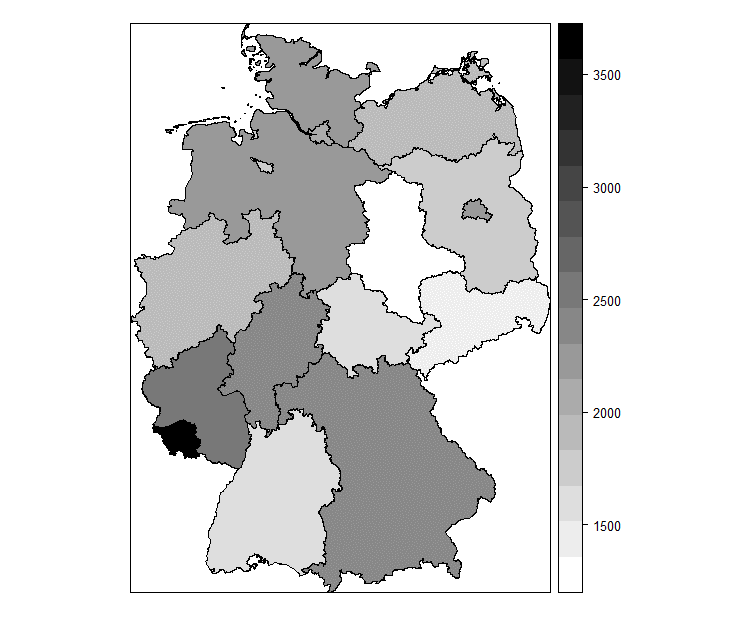 Average annual income of all principal German state branches in Euros per 1000 inhabitants, 2009-2017.
Variables
party (AfD, FDP, Greens, CDU, CSU, SPD, The Left)
year (2009-2017)
state (BB=Brandenburg, BE=Berlin, BW=Baden-Württemberg, BY=Bayern, HB=Bremen, HH=Hamburg, HE=Hessen, MV=Mecklenburg-Vorpommern, NI=Niedersachsen, NW=Nordrhein-Westfalen, RP=Rheinland-Pfalz, SH=Schleswig-Holstein, SL=Saarland, SN=Sachen, ST=Sachsen-Anhalt, TH=Thüringen)
sublevel (Only relevant for CDU and SPD. Branches in Hessen and Niedersachsen are organized with another sublevel below the state branch)
level (federal=federal headquarters; branch=Landesverband; local=nachgeordnete Gebietsverbände; sublocal=nachgeordnete Gebietsverbände (local units) of sublevel state branches (only for CDU and SPD branches))
Revenues
i_fees = Mitgliedsbeiträge (membership fees)
i_man = Mandatsträgerbeiträge und ähnliche regelmäßige Beiträge (mandate holder contributions, aka "party tax")
i_don_ind = Spenden von natürlichen Personen (indiviual donations)
i_don_cor = Spenden von juristischen Personen (corporate donations)
i_bus = Einnahmen aus Unternehmenstätigkeit (business activities)
i_oth_ass = Einnhamen aus sonstigem Vermögen (revenue from other assets)
i_inv = Einnahmen aus Beteiligungen (investments)
i_pubrel = Einnahmen aus Veranstaltungen, Vertrieb von Druckschriften und Veröffentlichungen mit Einnahmen verbundender Tätigkeit (public relations)
i_sub = Staatliche Mittel (state subsidies)
i_oth = Sonstige Einnahmen (miscellaneous)
Expenditure
e_staff = Personalausgaben (staff payrolls)
e_mat = Sachausgaben des laufenden Geschäftsbetriebs (continuous material costs)
e_pol_lab = Sachausgaben für allgemeine politische Arbeit (material costs for political labor)
e_camp = Sachausgaben für Wahlkämpfe (material costs for electonieering)
Not (yet) included
e_wealth = Ausgaben für die Vermögensverwaltung einschließlich sich hieraus ergebender Zinsen
e_oth_int = Sonstige Zinsen
e_bus = Ausgaben im Rahmen eigener Unternehmenstätigkeit
e_oth = Sonstige Ausgaben